Public Observation Competition
Help others stay safe this season and be in to WIN!
2022 Winter
Share photos and details on backcountry avalanche and snowpack conditions and help Kiwis stay safe this winter! This winter we are encouraging participants to submit their Avalanche and Snowpack Observations with some awesome prizes. Capturing the information around this season's snowpack is an important part of shaping the backcountry Avalanche Advisory forecasts and helping people stay safe in the alpine environment. So, next time you are in the backcountry - be safe, submit your observations and enter our competition! It's a Win Win!
How does it work?
By submitting your observations through the NZAA website you can be in the draw for a prize!
Simply submit an avalanche or snowpack observation with a photo using the NZAA Public Observations tool with your contact details and you are automatically in the draw to win.  We will contact winners directly and share monthly winners on our Facebook Page and NZAA Instagram Page. Details include:
New Zealand observations only
Observations must include the complete data with at least one photo, plus contact details
All observations submitted equal one entry into the prize draw, multiple submissions are allowed provided they are different observations
Running from June - end November 2022 (observations from May will be included in June monthly prize)
2022 Season Prizes
Prize details coming soon!
Monthly Prizes
June | Black Diamond Quickdraw Probe and Transfer Shovel
July | Black Diamond Ascension Skins
August | Black Diamond Guide BT Beacon
September | Black Diamond Cirque Pack
October | Black Diamond Swift Axe
November | Black Diamond Sabretooth Pro Crampons
Grand prize 1 (every entry goes in the draw for a grand prize):
Scarpa Mont Blanc Pro Boots + BD Sabretooth Crampons
Grand prize 2
A pair of 'B Spoke' Kingswood Skis
High Fives (spot prizes for people doing some awesome observing!)
7x pairs of Black Diamond Spark Gloves to give away
Important Information
This competition is designed to encourage sharing of information to help others stay safe in NZ's alpine environment and the MSC Forecasters will use these observations as a valuable information source when formulating forecasts. Please check the NZAA forecast, apply your training, take safety equipment with you and make smart decisions. Do not take risks in order to get an observation - we want you all to #MakeItHomeNZ.

By submitting a public observation you agree to allow Mountain Safety Council to use any of the attached images for the purpose of public safety.
Photo and entry requirements
Data + Photo from this season only (please date your photo)
Safety is priority as above, do not put yourself or others at risk to obtain an observation
You must provide your contact details in your entry so we can contact you
We will be sharing the winning photos on our Facebook Page and NZAA Instagram Page over the season.
If you have any issues submitting an observation, please get in touch with us
Help spread the word!
It is now easier than ever to share your public observation in your favourite backcountry snow sports groups on Facebook! Simply click the Facebook icon on the top right hand corner of the submitted observation and add your caption. Doing it this way ensures that your observation will have a wider reach and assist NZAA Forecasters.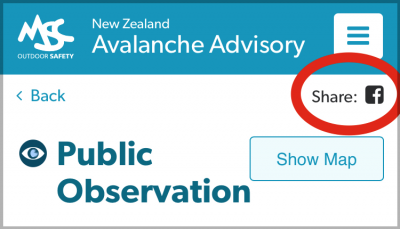 More information